Best Art Apps for Chromebook to Get in 2022
This post was most recently updated on July 24th, 2022
Best Art Apps for Chromebook to Get in 2022
The Chrome OS supports several platform-like android applications, Linux apps, Chrome app, and more. We can't deny the fact that every app Is not completely and fully optimized to work on Chromebooks.
But day by day, we are seeing the applications are getting optimized and growing significantly and the list includes all applications, drawing applications, graphics, applications, editing software, gaming apps, Office essentials.
There is been a conception between the users that the Chromebook lacks quality application when speaking about the creative apps. But speaking the truth, there are a lot of them you just need to discover them.
And in this article, we are here to tell you the best art apps for Chromebooks. The list includes some of the best drawing applications for Chromebook and other OS that works flawlessly and also let you enjoy all the perks of full-screen touch with an incredible range of tools and features.
Read Also: Ethernet Doesn't Have a Valid IP Configuration in Windows 10 – Fixed!
We have made this list carefully in which we have also included an application that works offline and offers the lowest latency while you are drawing something on Chromebook.
Expressing your creativity skills and great idea through a digital media platform has become quite popular nowadays, in fact, it's the best way. You can use plenty of apps to draw, edit your art masterpiece, and creating amazing videos, photos and digital painting is way more than fun than it looks.
Read Also: How to Get Wired Internet in multiple Rooms? – Ultimate Guide
You might not be considering the Chromebook application for your Art, but let me tell you that there are a wide number of options for the apps that are compatible with Chromebook that allow you to access the tools that you need to create an amazingly detailed drawing.
So, now that you are ready to dive into the article and find out the best art apps for Chromebook, let's get started.
Best Art Apps for Chromebook
Chromebook supports a wide range of drawing applications that are designed for art makers professionals or also for some people who are just new to the field.
Each of the applications that are listed below can be used to draw a sketch, drawing, or digital paintings, not only that but these apps also offer some other unique features and tools. So, let's find out what are they:
A widely popular app for digital drawing that is recommended for both professionals and beginners. Coming to its surprises, the app is rich in features and easily gets the job done for you. The best part of this application is that this application is easily available on Chromebook, all thanks to android support.
The application runs phenomenally well in full-screen mode with a huge canvas, multiple layers, and tools. When testing the application, the touchscreen latency was amazing and I was able to draw without facing any problems.
You can also use an active stylus and it supports palm rejection too.
Simply, the Sketchbook doesn't need any further introduction, it's indeed one of the best art apps from Chromebook.
The only thing that you need to do is to install the sketchbook on the Chromebook without any hacks. This application offers offline support so you can continue your work anywhere.
Gravit Designer is a popular tool used by professionals for painting and drawing. You are getting a different type and features like creating the paths with pen, layers, the knife tool to cut or make the shapes and symbols from the broad library of presets, snapping.
Plus you are also getting an edit section on the right side where you can customize every line that you draw and the tools you use for changing the things like the opacity, blending mode, angles, blending mode, blur, shadowing, and even made some position adjustments.
Moreover, it is a PWA, and its works smoothly on amazing Chrome OS. To get the features in offline moods, import/export features, you can also access the system fonts, unlimited cloud storage, and more, you will need to buy the pro model of this app.
All in all, the app is ideal for those who are looking for the best Art apps for Chromebooks.
Adobe, one of the best software that is famous for all types of content creating the application. Adobe offers illustrator and Sketch that are another two powerful painting programs that are available on both platforms' windows and macOS.
We would recommend you to use Adobe Illustrator Draw. It's an app that is pro in drawing the vector, you can freely draw on a big canvas with several brushers, layers, and different tool options. If you are looking for bitmap and raster drawing then go for Adobe Photoshop Sketch.
Both of the apps are amazing in terms of performance and latency, we didn't find any lags. Moreover, the app also supports the tilt mode which you can use through the rotate tool.
Another best art apps by which you show off your skills, with the wide selection of 300 brushes and a rich selection of layer effects, and a powerful text editor, the sumo paint gets the job done in a pretty smooth way. You can find this app on Chromebook online.
To get started, you'll need to make an account and then you can start creating digital paintings or drawings on this platform.
The sumo paint comes equipped the animated and 3D brushers that can extend the scope of your drawing and painting options. You can easily customize the brush according to your need for your project, you can pick any brush style, and adjust the rotation and space the values or change the level of gravity.
The gradient and color picker tools are also there to speed up the painting process and make that switching easy between the colors.
All images or artwork that you will create with Sumo paint can either be saved on the cloud, although you can also choose between different file formats.
The seasoned creative doesn't need any introduction to concepts. The concept platform is an amazing drawing and vector sketching application that is used by both professionals and casual designers who are new or do it often, as the app is widely accepted and considered as one of the best art apps for Chromebook.
The free version of this application grants your fast access to layers, precision, brushes, and tools ailment aids with a distinctive circle of controls.
Moreover, you can create image composition in just a few taps using the concepts' infinite layering system.
Another best art app that works incredibly well on Chromebook and offers your more than 160 presets of natural brushers and still, you are also getting an option to build new ones.
The blends modes, patterns, layers support, tool, textures, gradient, transformation, perspective aids for 3D painting and geometrical tools.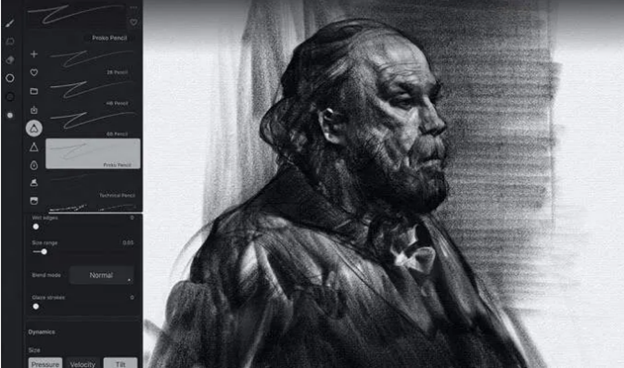 The Infinite is standing among the top drawing apps available on the play store. Overall, the app is excellent offering a wide number of features.
Art flow is an excellent digital art studio that comes with a huge range of tools and features for drawing and sketching.
You are free to make high digital paintings of complex paintings from scratch or the images, and you can save them in high resolution and export them in different formats like JPEG, PNG, and PSD files.
The app offers your 100+ customizable brushes, smudge tools, gradient fill, symmetry tool, layers, six-step undo, support for two layers, color picker.
The app is easy to understand for the beginner who is new to drawing and sketch and is also widely used by professionals.
The last words
So, these are the best art apps for Chromebook that you can download in 2022. We hope this article would help in deciding on the best art apps you can choose for Chromebook.