Last Updated on September 29, 2023 by Jhonni Jets
14 Best Tenkeyless Mechanical Keyboards to Have in 2023
Since the last decade, Mechanical keyboards have become exceedingly popular among gamers due to their cool and compact designs and the advanced gaming needs that they fulfill.
If you're a keen gamer, you must how quick reflexes contribute to your gaming experience. Therefore, choosing the right keyboard is the first step to utilizing your gaming capabilities to their fullest.
However, with time, many new and improved keyboards have been introduced in the market. One such keyboard is a Tenkeyless (TKL) Keyboard.
Read Also : How to Increase Touch Sensitivity On Galaxy S8
These Keyboards are smaller than the regular-sized Keyboards and come without a Numeric keypad (numbers & arrow keys). Typically, a Tenkeyless Keyboard consists of 87 keys, but it differs depending on the layout.
Best 14 Tenkeyless Keyboards for 2023
While Desktop keyboards are still a thing, a majority of people are switching to Tenkeyless Keyboards owing to the wide range of forms and functions they provide.
If you are also looking to get a Tenkeyless Keyboard, we have gathered the best 14 TKL keyboards that will help you make the most of your gaming time without getting drained.
Owing to its higher portability and smart display, the SteelSeries Apex 7 is the best Tenkeyless gaming keyboard on our list.
Key Features:
Compact and OLED display
Game sensors
RGB lighting
Discord and skype chat
Colorful mechanical switches
Aluminum Frame:
The keyboard is enclosed in a matte black 5000-Aerospace Aluminum frame, which guarantees durability and sturdiness and makes it last longer than the other gaming keyboards.
Switches:
The Apex-7 10-key less compact keyboard comes with three different color switches; blue, brown, and red, which differ in their characteristics depending upon the tactile nature and force required to press the switch. The mechanical switches offer a lightning-fast response even to a light stroke.
Lighting:
The smart appearance is what makes the SteelSeries Apex 7, a perfect choice for modern gamers. The keyboard features spectacular lighting effects, which help you to notify any new messages or discord chat. The RGB system also aids in the lighting mechanism and gifts your keyboard a more powerful display.
The second best Tenkeyless Mechanical keyboard that makes its place in this list is the Drevo 84-Key Gramr keyboard. Because of its robust layout, it is considered to be an extremely comfortable keyboard to use.
Key Features:
White backlight for easy use at night or in low light places.
An impressive 84 keys-design
1.8 m USB cable to cater to all your needs
Contains 24key Rollover
Solid keyboard construction
3 Different color switches to choose from
Overall Construction:
Drevo 84-key Gramr Mechanical keyboard has a condensed construction with 84-keys and specially designed N key rollers to help you click the keys faster with even with a little stroke. Another commendable feature of this keyboard is that it comes with four variable switches, out of which the black and blue switches are specifically built for gaming.
Performance:
The performance of this Tenkeyless keyboard is as outstanding as its construction. Starting with the White backlight feature, this feature makes it the best keyboard to use around night time and also reduces the stress on the eyes.
Secondly, the 1.8 m USB cable and gold plated connectors promise high durability than other local cables. Lastly, the attractive and smooth key designs and standard gaming equipment with added shortcuts makes it even more suitable for gamers of all levels.
Razer Blackwidow X Chroma follows Drevo 84-key in the list of best Tenkeyless mechanical keyboard. It is considered to be an ideal keyboard for games due to its top-quality working and guaranteed durability for a long time.
Key Features:
Separate backlit keys for programming.
Made with military-grade metal to withstand heavy-duty gaming sessions
Highly durable mechanical switches for a top-class performance
Features approx. 16.8 million color options
Compatible with Windows 7,8,10, PC, and Mac OS devices
Comes with a free USB port
Design:
The Razer Blackwidow X Chroma – Tournament Edition keyboard showcase a perfect and sleek design with a sturdy built that makes it feel both rugged & durable. The multi-color keys options also add to its wonderful appearance.
Speed & Performance:
Talking about the speed and performance of this Tenkeyless keyboard, the keyboard gives a more precise touch response than other keyboards and ensures to deliver quality performance without requiring much force.
The effortless performance of these mechanical keyboards owes a lot to the razor switches, which are inserted inside these keyboards to enhance their response time.
CORSAIR K95 or better known as CORSAIR vengeance is perhaps the best Tenkeyless Gaming Keyboard that we have on our list. If you are a gamer that gets to travel a lot, then this keyboard can be your best buddy as it can easily fit inside a regular backpack.
Key Features
Full-sized Keyboard but has a condensed shape.
Comes with a detachable USB cable
Have Cherry MX switches for a quick response
It Features full-sized keys
Keyboard Layout & Design:
Although the keyboard comes with full-sized keys, it has a small and condensed body that makes it fit for small desks and traveling.
The particular mechanical keyboard is made up of anodized Aluminum, which is a great material to maintain the durability and state of any gadget and thus, it increases the longevity of the keyboard.
Performance:
The Cherry MX switches give the CORSAIR K95 keyboard a smooth clicking effect, even clicking multiple times with no audible sound on clicking. As the keyboard has large-sized keys, it makes typing more accurate with fewer chances of mistakes.
The detachable USB cable also adds to the keyboard function by building a secure connection with other gadgets, while the Rollover keys save the keyboard from anti-ghosting.
The best keyboard is not the one that has all the features in it, but the one that has the features you want and is highly affordable. Such keyboards do exist, and the PIXEL TKL keyboard is a good example of such Keyboards.
Considered as the cheapest Tenkeyless keyboard, it has all the features, which will gift you with a smooth and consistent gaming experience.
Key Features:
LED-backlit modes
Consists of 87 keys
N-Key Rollovers
12 Multimedia keys
Compatible with every OS
Comes with a stand
Design:
The Pictek gaming keyboard is built using top-notch ABS materials, and the keys are covered by Doubleshot caps. It is a wired keyboard, and the keys are distinct.
Performance:
The switches are comfortable to use and don't produce any sound on tapping. The keys are not clustered; hence the cleaning operation of this keyboard is quite easy.
These TKL keyboards have an ultra-longevity owing to their durable materials.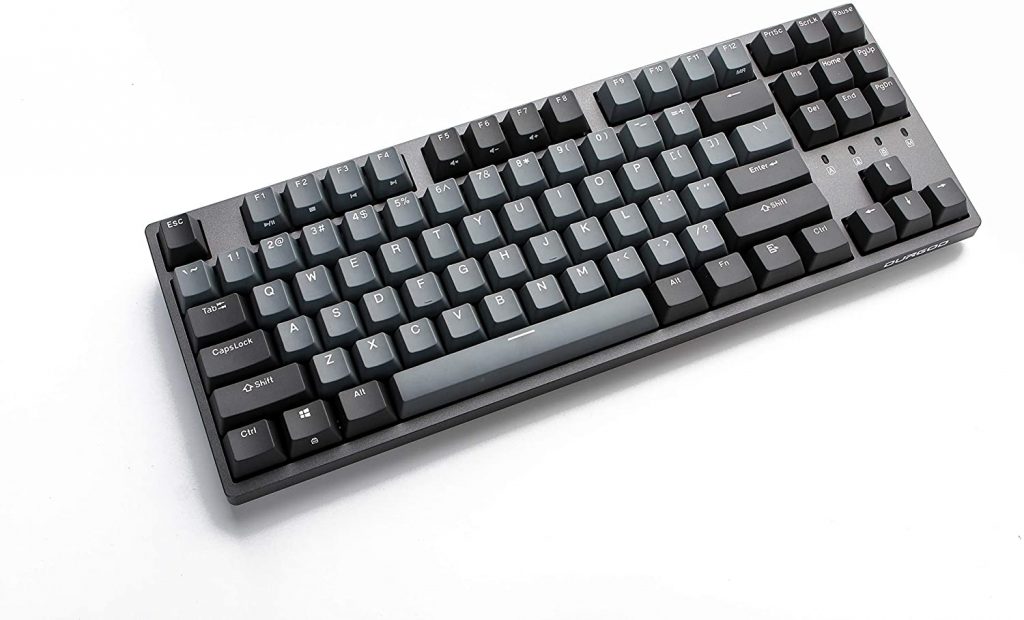 Durgod Taurus K320 is the next best Tenkeyless Keyboard you should consider buying in 2023.
The keyboard is well-built using premium ABS material. It features a cool and compact design which makes it super reliable when it comes to gaming and traveling.
Key Features:
Macro support
Comes with a keycap puller
N-key Rollovers
It contains USB connectors
Original cherry MX switches
Doesn't include RGB lights
Design:
The Durgod Taurus K320 TKL has 87 keys with Doubleshot caps. The keyboard is ergonomically designed with plastic making it very easy to handle. The mechanical keyboard also features USB connectors and additional keycap pullers.
Performance:
The performance of these TKL keyboards is unbeatable as they have an N-key rollover that adds flexibility to the keys. The keyboard can be set at any angle using the rubber feet that makes gaming more fun and less frustrating.
One thing that is missing in this brilliant masterpiece is that it doesn't support RGB lights, so it can be a good pick for users who values performance over appearance.
There was a time when the keyboard and mouse came with long, thick wires that had to be connected with the computer to make it fully functional.
Although that time still exists, many people now prefer wireless mouse and keyboards. The sole reason for this change is that TKL is less messy and gives more space and portability.
If you are one such person, who wants a clean space with fewer wires and cables on your work desk, then the Logitech TKL G915 Wireless keyboard should be your top priority as the Tenkeyless keyboard comes without a wire.
Key Features:
Comes without a wire/cable
3 different types of switches
Keyboard has the ability to connect with Bluetooth
Comparatively cheaper than their full-sized version
Design:
The keyboard follows a simple built and comes without a num pad and cable, which provides it a neat look, and the keyboard doesn't look cluttered. It also features Bluetooth and a USB port.
Performance:
This Tenkeyless mechanical keyboard has a lot in common with other similar types of keyboards. It has three switch options available that provide it with a much faster and reliable typing speed.
In short, the keyboard is a great option to count on when going to buy a wireless gaming Keyboard.
Looking for a Tenkeyless keyboard to fit into your budget? Say no more, because we have already come up with the best recommendation for you.
Redragon Kumara K552 Backlit Mechanical Keyboard holds all the necessary features that you need in a gaming Tenkeyless keyboard. It is one of the best yet cheapest TKL keyboard available in the market and contains the following features:
Key Features:
Mechanical keys and Switches
Splash Proof Design
Non-slippery design
LED lighting and shaped keycaps
87 standard keys and 12 multimedia keys
Design:
The Redragon Kumara K552 features a splash-proof design primarily made from an Aircraft-grade base material giving it an elegant display. The keyboard has two colors: red and blue, which gives it an even neat look.
Along with the black metal frame, it also has 19RGB modes available that aims to provide adjustable and transparent backlighting to the gadget.
Other notable features like molded keycaps and 87 standard keys contribute to the fast and accurate working of the keyboard.
Gaming Performance:
Although the keyboard is budget-friendly, yet it covers all the performance parameters of gaming keyboards. This Tenkeyless mechanical keyboard is equipped with Cherry blue switches that assist the keyboard keys to deliver fast and quick responses with a single tap.
Moreover, it produces an audible sound on each click, indicating the key has been pressed.
Logitech G Pro X keyboards commit to providing its user with a competition level performance and ultra-portability making it one of the best Tenkeyless mechanical keyboards out of many.
Key Features:
Ultra-precision and portability for a guaranteed win in any competition
Detachable USB cables
Compact 10-keyless layout
Features lightsync RGB for highlighting keys
Linear switches for quality results
Exclusive Mouse and other necessary gaming gadgets in Shroud Edition pack
Ultra-Design and keys:
Specially built for advanced level gamers, the Logitech G Pro keyboard offers a Tenkeyless layout giving maximum space for the mouse and makes it easier to carry in Tournaments. A set of 12 F-keys are evenly placed on the keyboard to perform speedy actions with a blink of any eye.
Note: The F-keys requires special programming software for their execution.
Speed & Accuracy
The best part of the shroud mechanical keyboards is that they use linear GX-red switches, which makes them the most suitable keyboards for playing action games.
The switches also improve the durability and the double tapping function of the keyboard. Another specific feature that is worth discussing is the Lightsync RGB, which highlights the keyboard keys using G hub software giving the finest touch to its keyboard's appearance while customizing animations.
The Detachable cable contains 3 prong settings for a stable connection and secure travel.
The keyboard also utilizes rubber feet to tackle stressful gaming moments and keeping the keyboard fixed to one place, so when you are in the middle of a tournament, you will not have to worry about the keyboard moving again and again.
Another great addition to our Best 10-keyless mechanical keyboards is the Das Keyboard- 4C Tenkeyless keyboard. The keyboard has a sophisticated and premium look and is primarily designed for gaming purposes.
Key Features:
Compactly designed and features 2 USB ports
It consists of a total of 87 keys
Has Cherry MX brown switch
Contains PBT keycaps
Built with High-quality anodized Aluminum
N-key Rollover
Design:
The feature that distinguishes Das Keyboard 4C TKL keyboards from other keyboards is that it comes with chargeable USB devices. You can work on your content and charge the USB device at once.
Quality & Performance:
The fast typing function of these keyboards is attributed to the N-key Rollover, and large stabilizers placed under large keys which help the user to type effortlessly without exerting much force.
The Cherry MX switches also aids the typing function by giving off audible sounds on clicking. This audio feedback is an amazing tool to enhance the typing speed without having to double-tap keys to satisfy precision needs.
The black colored keycaps are designed from a high-grade material that helps the keyboard keys to withstand a certain amount of pressure.
Furthermore, the TKL keyboard also contains function keys to instantly enable/disable the sleep mode and adjust the volume of the system.
Ducky One RGB TKL keyboard features a pretty simple design but is technologically advanced in its function.
Key features:
Some major features of this keyboard are:
RGB LED backlights
Lightweight and portable
Cherry MX black-switch
Programmable SMD
N-key Rollover USB
Overall built:
The overall built of the Ducky One RGB keyboard is quite interesting, as it's enclosed in a dual-layer design which offers higher protection and durability to the keyboard as compared to other keyboards of the same category.
The second unique characteristic of this keyboard is that it allows the users to adjust their height and position using 3 different feet levels. It also contains some function keys to choose different RGB modes instantly.
Performance:
Due to the presence of function keys, the keyboard allows the gamers to have more control over the keyboard operations. T N-key Rollover lets the gamers simultaneously press any keys, thus giving ultimate freedom to fully control the game.
The keyboard is compatible with: Windows 7/8/10, X High Sierra OS, and Mac.
Hyper X Alloy FPS Pro is our pick for the 14 Best Tenkeyless Mechanical Keyboard for 2023. The mechanical keyboard is best recommended for FPS gamer who wants to save up some space on their system.
Key Features:
Ultra-Compact and highly portable
Comes with traditional Cherry MAX switches
Made up of a highly graded steel material
Consists of 87-keys
Detachable USB cable
Design:
HyperX Alloy Pro keyboards are specially built for gamers who prefer compact, stable, and precise Tenkeyless Keyboard that also optimizes the desktop space.
They also contain detachable cables that make their transportation fun and easy. These Keyboards are made up of top graded steel, and metal materials to ensure their quality and eliminate the chances of easy-breakage.
Working:
The Tenkeyless Keyboard comes with Cherry MX switches, which makes its working super smooth and reliable. It also features a metal plate placed as a top cover to avoid any kind of instability during use.
The Drop ENTR TKL mechanical keyboard was rated among the best mechanical keyboards in 2022, and it has managed to maintain its rank in 2023 too. However, the keyboard is not specifically made for gaming, but it can be used for programming as well.
Features:
Excellent design and comes with a case
4 brightness levels
High-quality Aluminum case
Doesn't come with programmable keys
Give a slightly tough feeling on click
Halo Switches
Design:
The keyboard is a build with decent quality Aluminum and is covered within a plastic case. Its design is pretty simple as an ordinary TKL keyboard and comes in 3 color variations.
Performance:
The Drop ENTR Tenkeyless keyboard is a good choice for beginner gamers and programmers. The keyboard is nicely built and gives off 4 cool backlights.
Typing accuracy and is also fine. These mechanical keyboards have halo switches that don't produce any sound on click.
One unlikable feature of these keyboards is that the keys require a considerable amount of force to work properly making them good for moderate use only.
As the name suggests, Mechanical Eagle Z-77 is a Mechanical gaming Keyboard that holds a good position among similar Tenkeyless keyboards. The keyboard comes with Waterproof technology and has a simple yet aesthetic layout.
Key Features:
Perfect for gamers, the keyboards show the following key features
A compact design like any other Tenkeyless Keyboard
It is constructed with durable and reliable material.
An outstanding 25 Key Rollover to cope up against anti-ghosting problems.
Highly functional Mechanical switches
Has Shortcut keys to perform quick operations
The keyboard is compatible with Windows (7/8/10, Vista) and Mac.
Overall Design:
The overall design of the Mechanical Eagle Z-77 keyboard is quite impressive as along with a compact structure, it also features a fully waterproof body making it a highly durable gaming gadget.
The best feature of this keyboard is that the manufacturers have added some free switches to replace the old ones.
Performance:
The keyboard is highly responsive and quickly gets commands even after a light finger touch. This feature is particularly helpful if you are an enthusiastic gamer, as the fast tactile feedback doesn't let your hands feel fatigued even after hours of tapping on the keyboard.
Furthermore, the keyboard is also equipped with Rollover keys that eliminate anti-ghosting problems and give the user a smooth, trouble-free gaming experience.
Buying Guide
Tenkeyless Keyboards vs. Regular Desktop Keyboards
Tenkeyless Keyboards give a more minimalistic look and take up less space compared to traditional keyboards. Hence, it prevents the users from feeling restricted and allows them to move their hands effortlessly.
One key feature that is highly admired in these Keyboards is they come with size variations and are highly customizable to fit into any gamer's style.
One particular thing to ponder while going for TKL keyboard options is that they are a bit more pricey than the former ones, but considering their numerous advantages, they are worth the money.
Top Features for Best Tenkeyless Keyboards
There are as yet a couple of interesting points while picking the best mechanical gaming keyboard that will be ideal for our gaming needs.
Comfort level
Mechanical keyboards are frequently noisy when you click the keys; However, these days there are individuals who are practically quiet. As noise troubles you when messing around or utilizing them in your office, consider picking one that is somewhat calm.
The best mechanical keyboard will in general have a long key existence of 80 million keystrokes.
By and large, mechanical keyboards last at any rate 50 million keystrokes, so the more drawn out the time span of usability, the higher the expense. So it's dependent upon you to spend somewhat more directly on an enduring gaming keyboard.
Mechanical keys
These keyboards are way easier to use. They are compelled to enroll in any event when the keys are delicately squeezed. In this way, they are by and large planned in view of predominant material reaction.
Design
A run-of-the-mill keyboard wouldn't have at least three keys when squeezed simultaneously. Squeezing and holding various keys on a standard keyboard doesn't record any order. So, gaming keyboards should have the option to enlist in excess of five keys when squeezed at the same time.
This property is known as hostile to ghosting and is the fundamental explanation individuals purchase mechanical keyboards for better gaming encounters.
USB ports
Tenkeyless mechanical keyboards need to have decent USB ports allowing you to interface with your mouse, USB gadgets, or different peripherals. It needs to have a mouthpiece just as an earphone jack. So, it is imperative to associate the headset straightforwardly with any computer.
Conclusion
Tenkeyless Mechanical Keyboards save up more space as they are small-sized and also add a minimalistic look to your desk. The colorful variations among this compact-looking keyboard give off an aesthetic vibe.
These mechanical keyboards are a blessing for gamers, as they are specially designed for gaming purposes. They are highly secure and neatly packed within plastic cases to avoid any breakage during intense use.
If you have figured out the Best Tenkeyless Mechanical Keyboard for you and are ready to get one, we have the right gaming and non-gaming TKL keyboards available at affordable prices.