Last Updated on November 4, 2023 by Jhonni Jets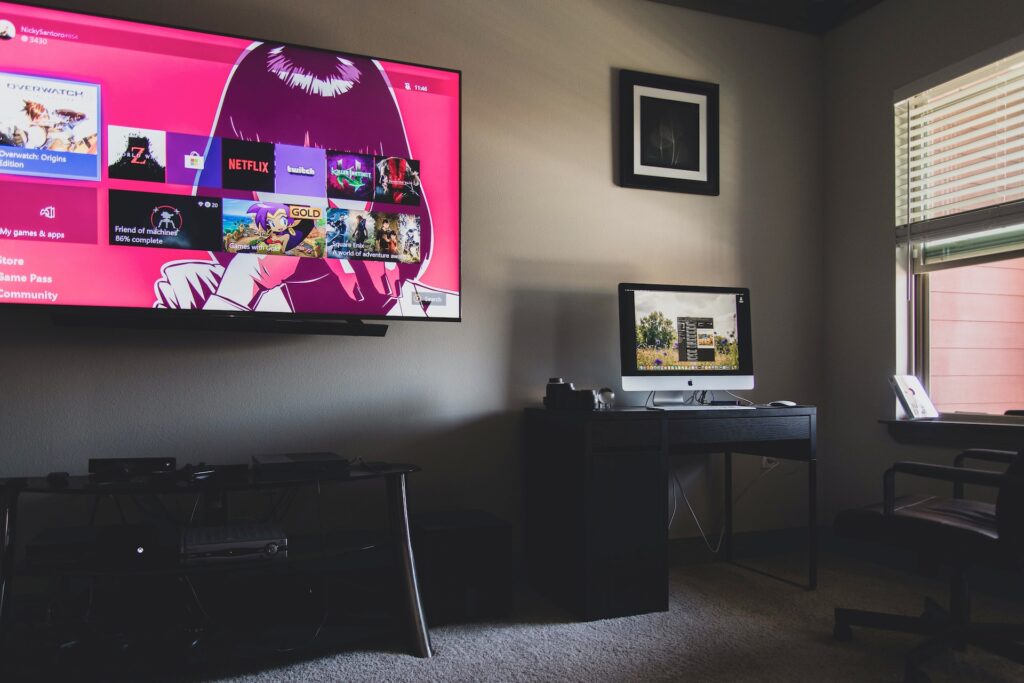 Hisense produces affordable, quality smart TVs that offer great features and specs at budget-friendly prices. Setting up a new Hisense TV is straightforward, but does require some planning and preparation to do it right.
Properly installing your Hisense television will ensure you have the best viewing experience possible. In this comprehensive guide, we will take you through the complete process of installing a Hisense TV in your home.
We will cover important considerations like selecting the right location, safely mounting on a wall or stand, arranging cables, connecting external devices, calibrating settings, and tips for maintaining your TV. Follow these steps and you will be enjoying your new Hisense TV in no time!
Step 1: Choose the Right Location
The first step is selecting the optimal spot to place your new Hisense television. Here are the key factors to consider:
Distance from seating: Main viewing seats should be 5-15 feet from a standard 55-65" TV for proper size perspective without eye strain. Adjust distance based on TV size.
Viewing angles: Aim for a head-on viewing angle. Avoid extreme side angles which can distort picture.
Height: Middle of TV screen should be at eye level when seated for a natural viewing position. Place at appropriate height or use a stand/mount to achieve proper alignment.
Lighting: Moderate ambient light is ideal, avoid bright light directly on screen. Position TV out of direct sunlight. Keep room lights dim during critical viewing.
Take measurements and pick the wall space or media cabinet area that meets these criteria. This will provide the best TV watching experience.
Step 2: Secure TV Safely on Wall Mount or TV Stand
Once you have the ideal location picked out, the next step is safely securing your Hisense TV in place. There are two options:
Wall Mount
Wall mounting above an entertainment center is the preferred approach to get proper height and viewing angles.
Choose a sturdy, VESA-compatible wall mount bracket designed for your TV size.
Carefully attach the mounting bracket plate onto the back of the TV by following instructions.
Affix mounting plate securely to wall studs and ensure it is level.
Mount and secure TV onto the plate using provided hardware.
TV Stand
A media TV stand or cabinet is the simpler alternative if wall mounting is not feasible.
Select a sturdy stand designed for your TV size with enough surface area to hold the base.
Place stand and ensure it is level on the floor in the intended viewing area.
Place TV screen-down onto cushioned surface to avoid scratches.
Using 2 or more people, carefully place the TV right-side up on the stand. Position TV base fully onto the stand surface.
Either mounting method works as long as the TV is completely secure and stable in place. This prevents injuries or damaging falls.
Step 3: Manage Cables and Connect Devices
With the physical Hisense TV in place, it's time to handle cable management and connect external devices. Proper cable routing helps avoid a tangled mess.
Label external devices like cable box, game console, streaming stick with provided TV port like HDMI 1, HDMI 2, etc.
Neatly organize cords by grouping together and using wire wraps or ties to avoid clutter.
Hide connected cables behind stand or thread through wall to conceal from view.
Connect each external device to the matching TV port using provided cables. Most can use HDMI. Consult device manuals as needed.
For cable boxes, make sure the TV is on the right input channel to see the feed after connecting.
Take your time to route and plug in cables neatly to avoid a spider-web mess down the road. Group devices together with their respective cords.
Step 4: Power On and Complete Initial Setup
With all connections made, it's time to power up your new Hisense television!
Plug the TV power cable into an appropriate grounded electrical outlet. Avoid outlets shared with other large appliances to prevent tripping breakers.
Locate the power button on the TV, usually on the side or back of the bottom edge. Press and hold for 3-5 seconds until TV turns on.
The initial setup wizard will appear to guide you through language, network, preferences, etc. Follow on-screen instructions using the TV remote.
For smart TVs, connect to wi-fi and log in to your preferred apps and streaming services to set up accounts.
If prompted, allow TV to search for and install any available firmware updates for best performance.
Take your time working through the setupwizard and connected apps to personalize your preferences. This initial configuration gets your Hisense TV ready for enjoyment.
Step 5: Optimize Picture Quality with Calibration
To achieve the best possible picture quality from your new Hisense television, it is highly recommended to calibrate the TV's settings.
Here are the key steps for calibration:
Switch to TV tuner and find a high quality channel or use calibration disc/pattern.
Go through picture settings like backlight, brightness, contrast, color, sharpness etc in the menus and tweak each one.
Adjust settings based on surrounding lighting levels and personal preferences. Lower backlight/brightness for dark rooms.
Enable any picture enhancement features needed for type of content viewed. Game mode for gaming reduces input lag.
Consider getting a professional TV calibration for under $200 if you want perfection.
While optimal settings depend on room conditions and content, proper calibration ensures your Hisense TV looks its absolute best.
Step 6: Sound Quality Enhancements
Beyond optimizing the video, also consider options to boost sound quality:
Turn on volume leveling and surround sound settings in the audio menu.
Enable 'equalizer' preset modes like Movie, Music, etc and pick the best profile.
Connect an external soundbar or home theater system via HDMI ARC for fuller immersive sound.
Pair wireless surround speakers and subwoofer to TV audio output for full-room impact.
Depending on your budget, great sound can enhance TV viewing as much as the visuals. Explore accessories to upgrade audio.
Step 7: Hide Cables and Maintain TV
Once fully set up, a few final steps will keep your Hisense TV looking great:
Go back over cables and ties/tape down any still visible for a clean look.
Use cable covers, raceways, or sleeves to neatly conceal cords along edges or behind wall.
Place components like streaming boxes and game consoles out of sight in a media cabinet.
Clean the TV display periodically with a microfiber cloth and approved cleaner to prevent dirt buildup.
Check for firmware updates periodically and install to improve features and fix bugs.
Proper installation combined with regular maintenance will ensure your Hisense TV provides many years of spectacular service!
Troubleshooting Common Hisense TV Issues
If you encounter any problems setting up or using your new Hisense television, try the following troubleshooting tips:
No picture
Check connections between devices and TV inputs
Try different video cables in case of defects
Power cycle TV and devices by unplugging and reconnecting
Remote not working
Replace remote batteries with new ones
Re-pair remote with TV by pressing pairing buttons
Try using remote within range and aimed at TV
Poor picture quality
Tweak display settings like contrast, brightness and backlighting
Try different preset picture modes
Change ambient lighting conditions
Test with different HDMI cables
No sound
Increase TV volume and check it's not muted
Try alternate audio outputs like optical
Enable/disable surround sound
Consider connecting external speakers
With some targeted troubleshooting using these tips, you can resolve most common Hisense TV issues that pop up.
Get the Most Out of Your New Hisense TV
Taking the time to properly set up and install your new Hisense television will pay dividends through years of enjoyment with optimal performance.
Follow this comprehensive guide to choose the right location, safely mount the TV, neatly connect devices, optimize audio and video settings, and maintain your TV. Execute each step carefully and your home entertainment experience will be greatly enhanced.
Enjoy pristine picture quality, immersive sound, and smart functionalities thanks to these best practices for installing a Hisense TV. Your shows, movies, games and more will look amazing. Here's to the pinnacle of television viewing experiences right from your home!