Last Updated on January 14, 2021 by Jhonni Jets
How to Use a Parachute in GTA V PS4? – Easy Steps
GTA, a world where you can get lost in an hour and forgot about the rules and regulations, you can free to do anything, and by "anything" I literally mean ANYTHING.
You can discover new maps, new locations, find and ride different cars, rob a bank, be a thug (a street owner), you can make tons of properties your home and soar the skies with a parachute at your back and a lot of similar possibilities that this world allows.
Read Also: How to Connect PS4 to a TV Without HDMI – Easy Steps to Follow
When it comes to parachuting in GTA V, we have seen people asking a question like how to use a parachute in GTA V in ps4, how to get parachute in GTA V in ps4 which brings us a question why not we write a proper guideline in which we let you know about how to use a parachute in GTA V in ps4. So, yeah here is the article.
Parachuting isn't a hard and fast mission, which requires you to go to a particular place and finding a parachute there, like other similar activities. Players including beginners and intermediate level struggle to find and operate a parachute in GTA V, but no more because after reading this article you'll have a smooth gaming experience with this in-game item.
An important thing that GTA V players should be aware of is that the parachute needs to be acquired or they must have it in their inventory before they use it.
Once the parachute is a part of your inventory or acquired by you, at the time of falling, those players who have a parachute will automatically be shown an option to deploy it when you are falling from a high altitude.
GTA V is no doubt, one of the best and most fascinating playgrounds of the 20s decade. It offers a wide array of activities for players to engage in.
It is always better to practice the deployment and landing with a parachute before you head into the storylines because there is 13 parachute mission in the storyline of GTA V.
If you are going to divine the tall building or aircraft, then you need to get yourself a parachute first.
Before we get started with how to use a parachute in GTA 5 in PS4, first we should discuss how to get a parachute in GTA V in ps4, because we have often seen players asking a question about where to get a parachute in GTA V. So, here is to that:
How to get parachute in GTA V
The essential thing that is needed to survive a big fall like jumping from an airplane or a tall building is a parachute. If you like to story mode and do missions and side missions that involve missions in which you'll have to jump from tall buildings. So you'll need to have a parachute at your back.
If you want to equip a parachute for future activities in the gameplay that involves jump from high buildings. So here's how you can get it:
There is a mission in the story mode named "minor turbulence" in which Trevor crashes a Merry weather airplane. After you pass that mission, the parachutes become available to purchase in Ammo-Nation (from where you but ammo for guns.)
Go to the Ammo-nation Store.
Select the parachute.
Buy the parachute.
Right after you make the purchase, the parachute will be added to your inventory.
The next time you are going to fall from a tall building or from an airplane, you will automatically get an option to deploy your parachute.
How to use a parachute in GTA V on PS4
Here is how to use a parachute in GTA V on PS4:
Unlocking the parachute feature.
Firstly, we have to find a mission named "Risk assessment." You can parachute at the very beginning of story mode so, if you want to unlock parachute landing for side activity you'll have to first complete the mission named "Risk assessment." This mission appears as franklin's strangers and freaks mission at nearly 2/3 through the story mode.
Here you can locate this mission. First, open the map by pressing the start button (PS4, PS3, and Xbox 360) and if you are on PC you can press the "M" key.
After opening the map, search for the green icon written F over it in the mount chiliad area. After locating that area, press the X button for PS3, PS4, "A" button for Xbox 360, or left-click on PC to mark that location.
Follow and reach the marked location
After you set the location, a Purple path will be appearing on your mini-map. Follow that path located on your mini-map. Once you reach the marked location, you will see a barking dog.
Luckily franklin understands the dog and follows it on a dirt path. There you will see a man hanging from a tree and his parachute will be tangled in the branches of a tree.
On reaching that point, a cut scene will begin and franklin will help the man in getting out of the tree. The man will introduce himself as Dom and then Dom will call his helicopter and will take franklin with himself.
On reaching a certain height the Dom will pressure franklin to try parachuting, to which franklin will somehow agree.
After the cut scene. Both franklin and Dom riding over the Los Santos. Then Dom will jump from the helicopter first, prodding Franklin to follow him.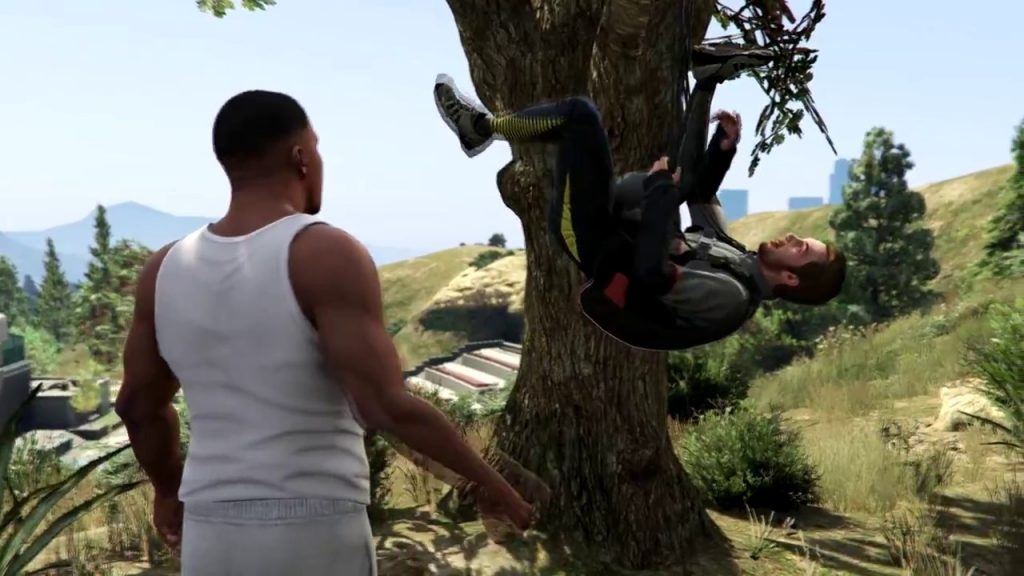 When you are ready, press the on-screen commands to jump from the helicopter. While you are free-falling, you can control the direction of you moving in the air using the toggle sticks (PS4, PS3, and Xbox 360.) or directional keys from the PC.
While flying in the air, you'll get an option to deploy a parachute, when you are ready to deploy a parachute, press the "X" button (PS4, PS3) "A" button on Xbox 360 or left click on PC. It is always better to deploy your parachute Sonner; it helps in better targeting a spot for landing.
The ideal time to deploy a parachute is after seven to nine seconds after you free fall.
Once you deploy your parachute, you can have control at your descended speed through the tool stick (PS3, PS4, and Xbox 360) or by directional keys on PC. If you push forward, it'll make you go down quickly while pulling back will slow you down.
For steering the parachute, you'll have to press the R1 button (PS4, PS3), RB button (Xbox 360), or D key on PC to turn right, and go to left, you'll have to press the L1 button (PS4, PS3), LB button (Xbox 360), or A key on PC.
On reaching the ground, the franklin will perform a roll by himself to stop the momentum and tug his parachute off.
Hop on bike race with Dom
After landing, Dom will challenge you to have a bike race with him down the mountain. The bicycles will automatically be marked on the mini-map by yellow dots.
Reach the bikes and then press the triangle button (PS4, PS3), Y button (Xbox 360), or F key to hop on to bike on PC.
To win the race, follow the checkpoints on your mini-map. Use the toggle stick (PS4, PS3, and Xbox 360) or directional keys on the PC to handle the steering of the bike. To accelerate the bike, tap on the X button (PS4, PS3) "A" button (Xbox 360), or caps lock keys on PC.
Whether you win or not, the race will end regardless and the mission will end and the parachuting activity will be unlocked as an activity.
Parachute jumping
Find an area for parachute jumping
Across the map, there is a total of 13 places scattered for parachute jumping. These areas are marked by white icons that are quite similar to a parachute.
Now, for landing you have to mark a location, you can mark the location by moving the cursor and clicking over the desired icon. Press the X button (PS4, PS3) A button on Xbox 360 or by hitting left-click on PC. By doing so, you will set the parachute as your destination.
After you mark the location, you will see a purple path on your mini-map that will take you to the jump area. Follow this marked location to reach your destination.
Once you reach the marked location, you will see a helicopter, and an onscreen prompt will appear on your screen and ask you if you want to do parachute jumping. Select the YES andyou will board the helicopter.
The chopper will take you to a certain height for parachute jumping and franklin will be standing at the door of the helicopter. When you are all set, press the On-screen prompt to jump into the sky.
Wait for seven to nine seconds after jump from the helicopter and then deploy your parachute. This ensures a safe landing.
Aim for the landing area.
When you are landing, an area will be marked as your landing area on your mini-map with yellow dots. As you will get closer to the ground, you will be able to identify the area that is marked by a yellow circle. 
If you land right on the marked landing area, you will get a reward with a monetary prize which will increase continuously if you land closer to the center on the landing point.
No doubt, parachuting is full of fun in both lives, real-life and gaming life and it's an easy way to make money.
Parachute jump location
Here are all 13 locations marked on the map, all these locations have varied payouts.
Pacific Tour – $200
Turbine Terror – $400
Carving the Mountain – $500
Photo Finish – $350
Bank Bailout – $200
Aim for the Fairway – $200
Razer Rock Dive – $230
The Decline – $400
Falling Mouse – $350
What Goes Up – $200
Runaway Train – $200
Fall of the Alamo – $550
Damned If You Don't – $550
Wrapping up
GTA V is a popular open-world game that is full of fun, exciting things, and a plethora of activities that players can do. One of those exciting activities is parachute jumping and making your way through the air is an outstanding thing to feel.
But to have a safe landing you'll have to make sure that you are equipped with a parachute first. Or else you'll end up killing yourself. Be careful
We hope that you will a great parachute landing in GTA V.
Thank you.