Last Updated on September 29, 2023 by Jhonni Jets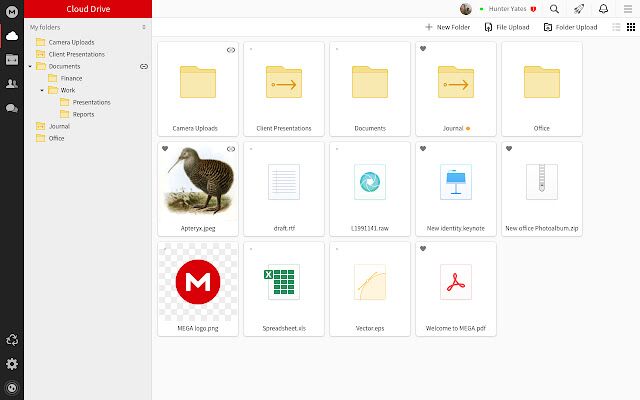 How To Download Large Files From Mega | Best Methods 2023
Facing the well-known "excess bandwidth" error? Here are the best ways on how to download large files from mega you can't miss out!
What is mega?
Storage space on a remote server rather than on your local computer is called cloud storage, and that is what mega is. Mega is a cloud file-storing and hosting service that lets users share files very easily.
Mega ranks for end-to-end user encryption; your uploaded files cannot be viewed by anyone else, not even the mega team members.
Read Also: How to Install Apps Directly to SD Card from Play Store – Easy Steps
You can send any file to your friends or colleagues, whether it's a video, audio, or an image. This file-sharing and hosting medium is very popular as it provides a bundle of more features than other storage platforms like Google Drive and one drive etc. The rates of paid services are very reasonable; it also provides 150 GB of downloading per month for its free users. That is a big takeaway.
As Mega became popular, it implemented a bandwidth limit on daily downloads; only 5 gb daily, and with all those fancy games out now, that certainly isn't enough.
In this article, we will uncover some authentic methods on how to download large files from mega.
Methods to bypass mega download limit in 2023
Before moving on to the methods, there is a need to mention that Mega offers very decent paid services. They are reasonably cheap and come with a superb level of user privacy. Even its entry-level pro services are high-end and are worth the money with its 400 GB online storage, private chat, and video calling capability.
Using a download manager
Installing the required applications
You can successfully download a large mega file by using our first method. It requires some basic tools for accomplishing 'mega.nz download large files' operation.
Firstly, you require a download manager. You can choose xtreme download manager or internet download manager. However, for this method, we recommend that you go with the xtreme download manager. You must crosscheck your downloading source as there are many copies of software available that have malicious software or viruses attached to them.
A reliable source for downloading xtreme download manager is GitHub or any other you like, but it must be secure. You can always read the comments to know if the files are working or not. The next thing you need is the mega downloader version 1.8, and you are halfway done on your quest; how to download large files from mega.
Locate the URL from which you want to download the file. Copy it.
open your mega downloader and select options>>configurations.
A configuration window appears. Select the streaming tab. You will find a user streaming checkbox under streaming configuration. Enable it. Or simply click gear icon to enter configuration menu.
Now move to the streaming tab in your mega downloader and select watch online.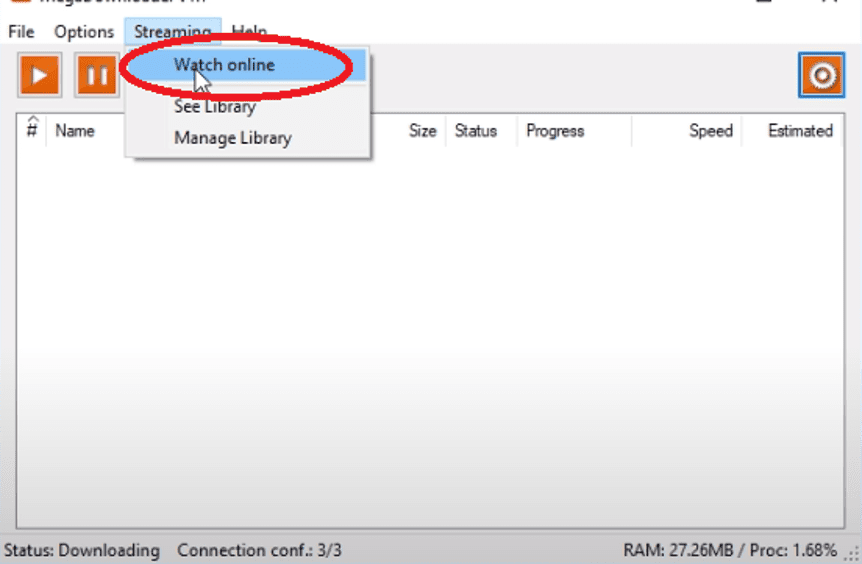 In streaming window, you will see a mega url link, paste the link of the mega file you want to download. When you do, the downloader automatically generates a streaming link. Select and copy it.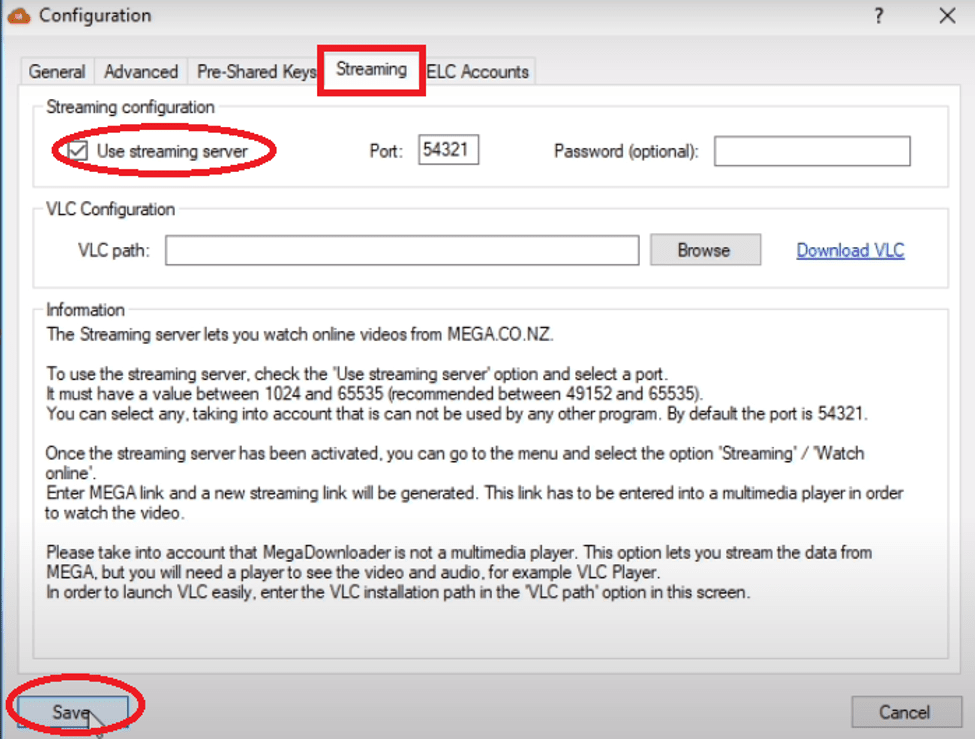 Now open your xtreme download manager. The manager is intelligent enough to paste the link automatically but if it isn't use this way, click on the file menu and select the option that says add url.
Now you are all set, press the download now button, and your file will begin downloading.
Downloading from Mega commonly works with xtreme download manager. However, you can be one of those users who face trouble with the above method. Worry not, we have another solution for you!
The next method is pretty much the same as the above one. The only is the use of a different download manager for downloading from Mega.
Quick tip: the method for downloading a mega file remains the same for all managers.
An alternative method for downloading mega.nz large files
Another useful method on how to bypass the mega download limit is using the downloader. JDownloader is a download manager coded in Java. It helps you download groups of files from the internet without any hassle. To download Mega.nz large files, follow the following steps.
You will find JDownloader on many websites, but we recommend you download it from the official website.
Since it is open-source software and is compatible with almost all operating systems, download, install, and launch the manager on your machine.
Copy the URL of the mega file you want to download. Now select Add URL in the main window, paste your link, and press Download. Your file will start downloading.
JDownloader downloads multiple files without a sweat. It also helps to speed up the slow download of files. Using this software, you can easily download a large file of 10 GB from Mega.
How to download large files from Mega: using the desktop app
The easiest way to download large mega files is by using its app. The desktop client is available for all operating systems, but the mobile app is only available for android users.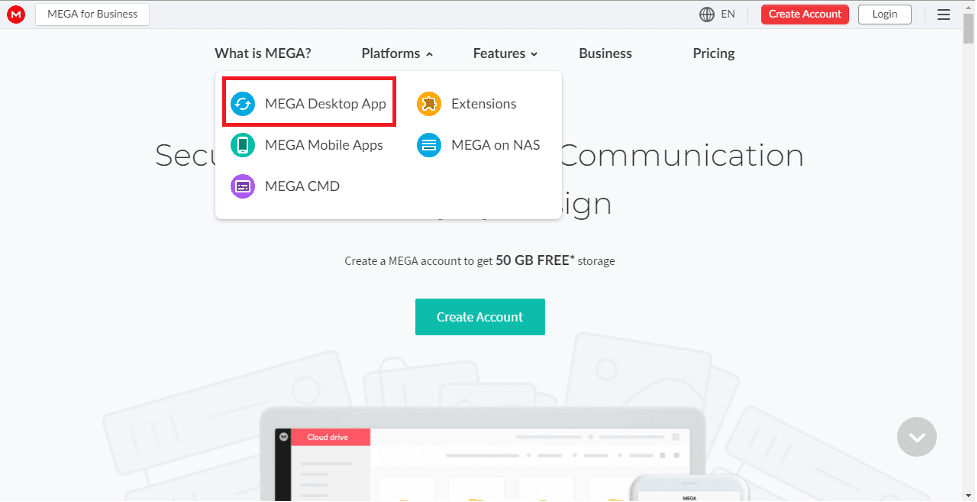 Go to the official website of mega. Nz for downloading the application.
On the home page, navigate to platforms and select the desktop app.
When downloaded, install it. Log in with your mega credentials for uninterrupted downloading.
How to download mega files with IDM (internet download manager)
There are all sorts of mega users, and maybe you are looking for how to download large files from mega using IDM. We have just the thing for you.
Download the mega desktop client and install your IDM.
Now select configurations in the options menu.
Go to streaming and checkmark the user streaming box click save to save the changes.
Copy the URL of the mega file and select the streaming tab. Go to watch it online. Paste your mega link to generate the streaming link.
Next, open your IDM and add the URL. Copy and paste the streaming link and hit start download. You got it!
Quick tip: you need to allow access from the Windows firewall. This method is perfectly safe to use.
Conclusion
Mega is a popular cloud storage, but it implements some limitations on downloading large files. So we have highlighted the best techniques about how to download large files from mega. Hope this has been of help.
Happy downloading!