Last Updated on September 29, 2023 by Jhonni Jets
How to Turn Off Narrator on Samsung TV – 3 Legitimate Methods
Samsung needs no introduction. It is one of the most popular TV brands whose network spreads all over the world. Samsung has been in the industry for decades.
The fantastic features it offers make it stand out from the competition. In this technological world, Samsung is a famous TV brand that provides excellent features on their TVs. But sometimes, these features can be annoying or way too challenging to handle.
If you own an Android device, then you must be familiar with Accessibility features that help those who have weak eyesight.
Read Also:How to Get Web Browser on Vizio Smart TV – Easy to Follow
There are multiple features like voice guide, High contrast, enlargement of menu area and text on the display, sign language and greyscale. Once it is enabled, the voice assistant starts giving an audio description for the TV menu and options.
Suppose you have already allowed this option and don't know how to turn it off then no need to worry. We have got it covered for you. In this article, we have written an easy way to turn off the Voice guide on Samsung TVs.
Read Also: How to Download Xbox 360 Games to USB and Play – Easy to Follow
Here are the tips to stop Samsung TV from talking by turning off the Audio description will work on all models. It's not worrying whether you own a Samsung TV 5-Series, 6-Series. 7-Series, 8-Series, 9-Series, QLED or SUHD, you can quickly turn off the voice guide feature on all of them.
Read Also:How to Adjust Screen Size On Roku TV – Easy Steps to Follow
The listed method is tested on Q70R, but this procedure should work on a broad range of Samsung TV models which include Q60T, Q70T, Q80T, Q95T, Q60R, Q80R Q90R, Q90T, Q8C, Q950T, Q800T, Q900R, Q6F, Q7F, etc. Make sure you keep your Samsung TV up-to-date to avoid the minor bugs.
What is a voice guide?
Before moving to the procedure, let make this clear that what a voice guide is and what does it do? So the voice guide can be defined as a voice assistant or narrator that comes in Samsung Smart TVs that gives an audio description of all the menu items and options.
Read Also:14 Best Tenkeyless Mechanical Keyboards to Have in 2021
This feature is handy for those who have weak eye-sight or have trouble seeing the screen. Besides, it also provides feedback when you switch to connected devices like a set-top box or any streaming service like Netflix, Prime Video, Hot star, etc.
Moreover, it will also let you know all the details such as movies, their name and the description of the title when you browse online streaming service.
The feature of the voice guide is similar to the talkback or screen Reader feature that comes most of the on android devices. Yeah, talkback devices are useful in android devices but not so much and luckily turning off the narrator (Voice Guide) is much easier than disabling the talkback on android devices.
This feature might be useful for some of the users especially for those who have weak eyesight, and for those who can read easily read everything with clarity and don't need a voice assistant to follow up, they might find the voice guide loud, annoying and unnecessary.
Unnecessary? Yes, it is. From Samsung Q70R Series, we tested recently. We somehow got to the setting of the TV and turned on the voice guide that is also known as the narrator.
On the way back to the Home screen, we found out that the TV keeps giving an audio description that sounded like some irritating voiceover. And that's where we get to know that annoying it can be for you so that's where we decided to write a whole article for you. So let's move to our topic.
Turning off voice guide on Samsung TV
There are two methods by which you can turn off the voice guide on Samsung TV.
Method 1:
It is a comparatively easy method to go directly to the Accessibility shortcuts on your Samsung TV. Well, we discover this way while we were trying to do something else.
Step 1: Firstly,press and hold the volume button placed on your Samsung Smart TV.
Step 2: Doing so, you will be redirected to the voice guide option. Then, just press the Centre/select button to turn off the voice guide.
And done see how easy it was. Now turn for another method.
Method 2:
Here is an overview of this method. Let's see how we can stop a Samsung TV from talking in a few simple steps, which is by navigating to Settings > General > Accessibility > Voice Guide Settings > Voice Guide. For detailed information with screenshots, see the procedure below.
Step 1: Firstly,Press the Home Button on yourSamsung Smart TV remote control.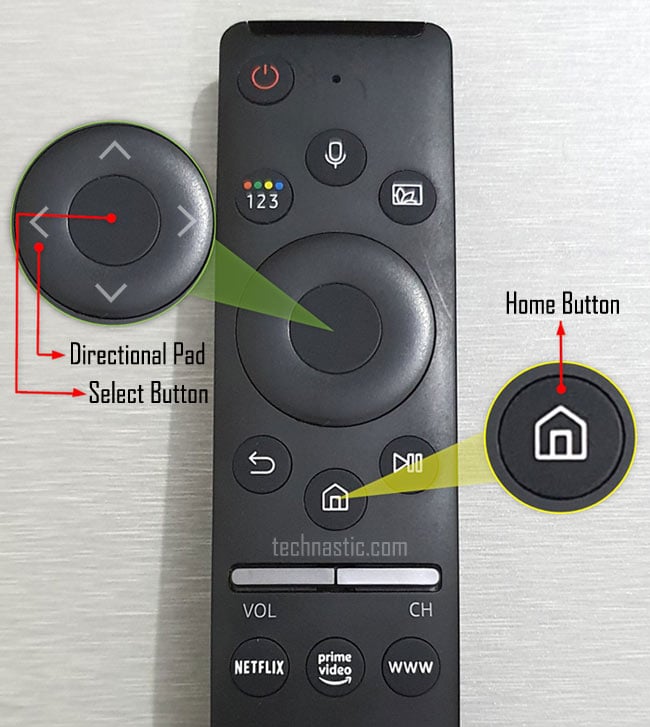 Step 2: Press the left side of the Directional round pad on your remote, navigate to Settings , and press the center button to open it.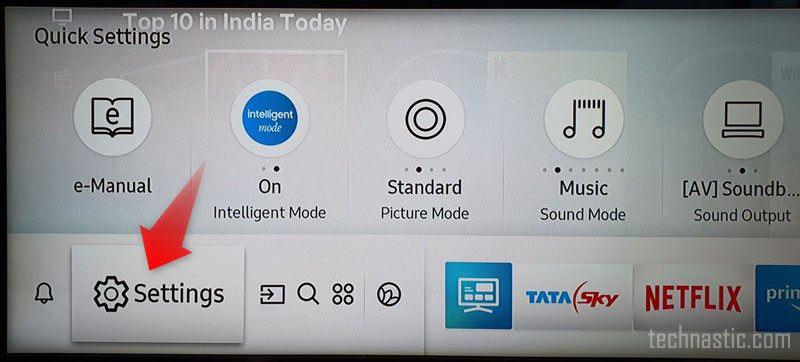 Step 3: The settings menu will open, highlight the General option. Click on it.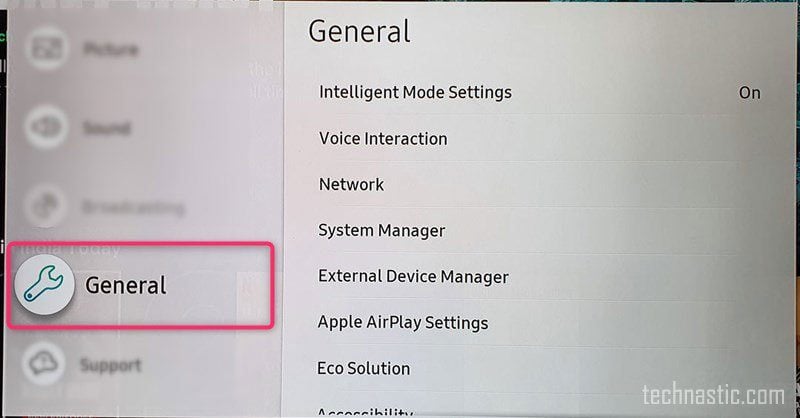 Step 4: Now, press on the center button on your remote placed on the right side of the Directional pad on your remote to open the General settings menu.
Step 5: Now, navigate the accessibility panel by pressing the low side of the Directional pad and open it.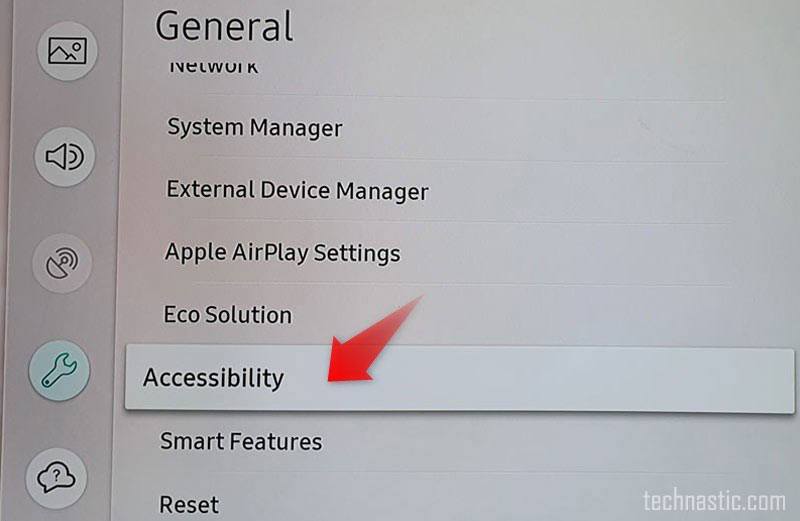 Step 6: After that, among the accessibility options, you will get to see the Voice Guide settings.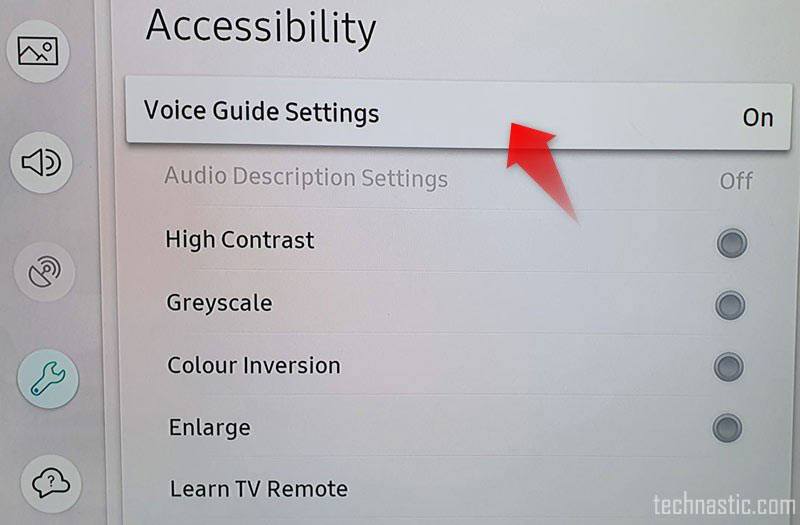 Step 7: Open it by clicking on it, open the voice Guide settings.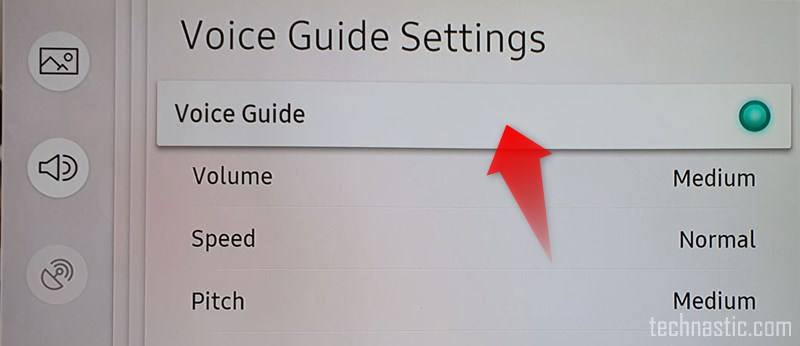 Step 8: Asshown in the above screenshot, the voice guide is currently enabled. To turn it off, you just have to press the Centre button and it will be turned off.
And it's done. Well, this procedure is a little longer as compared to Method 1. Bothof the mentioned works perfectly. You can use any of them.
Turning off the voice guide using the voice command
If you own a Samsung TV that comes with a new remote means which supports the microphone button, then you can turn off the voice guide by following these steps.
Press and hold the microphone button on your Samsung TV remote.
Say "Voice guide off"or "Turn off Voice guide."
For Old Samsung TVs
If you have an older Series Samsung TV, then follow these quick steps given below to turn off Voice Guide (narrator).
Firstly, Press the MENU/123 button on the Samsung TV remote control.
Then, go to Select Menu.
Then go to Settings.
After that, select Accessibility.
Then you will an option named Voice Guide.
Select Voice Guide again.
Press the selection key on the remote and select OFF to turn off the Voice Guide.
By following these steps, you can turn off the voice guide voice command.
Wrapping up
By turning off the Voice Guide feature on your Samsung Smart TV, you will get rid of the annoying voice description. This feature is helpful for those who are weak at eye vision or have trouble seeing the content on the display screen. Some Samsung TV users reported they are still getting voiceover on their TV after disabling the Voice Guide. But you don't need to worry because now you know how to do it, so follow the steps and you are there.
Good luck.