How to Get Web Browser on Vizio Smart TV – Easy to Follow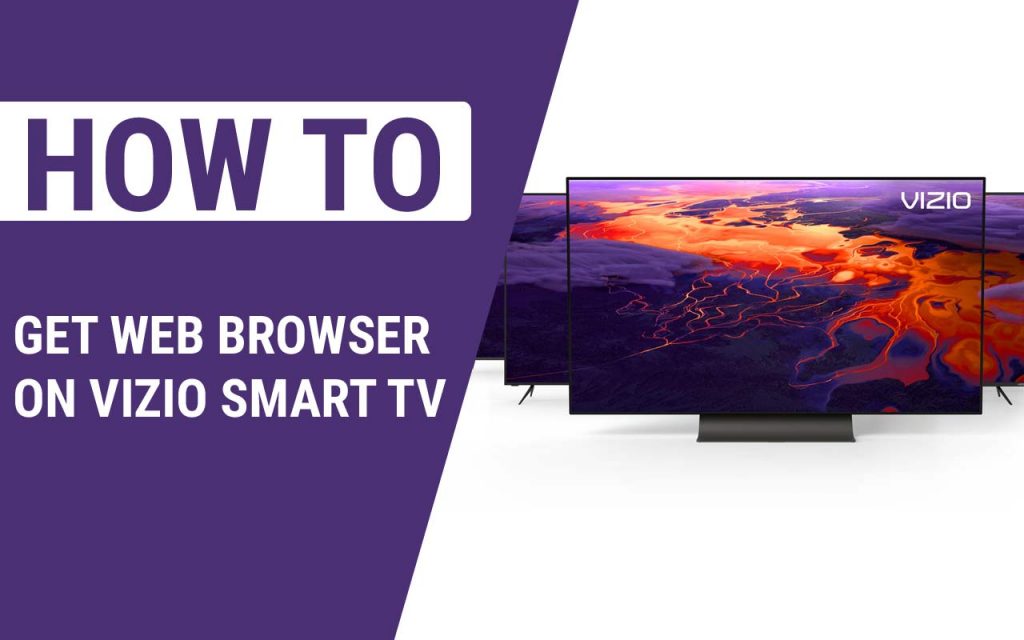 How to Get Web Browser on Vizio Smart TV – Easy to Follow
A smart TV is modern equipment that makes it very easy to stream movies and TV shows, and newer models of these Smart TVs offer outstanding features such as voice controls and smart home integration.
You would be surprised to know that most of the TVs are considered as Smart TVs with Internet connectivity and apps for streaming and smart home functions.
Read Also: How to Download Xbox 360 Games to USB and Play – Easy to Follow
It is quite challenging to understand what makes a TV smart and what all those capabilities are which makes it a TV smart. Because all TV nowadays comes with little different specifications that vary from one brand to another, even they differ from model to model.
Read Also:How to Adjust Screen Size On Roku TV – Easy Steps to Follow
A growing number of models now include Voice recognition tools like Amazon, Alexa, and Google Assistant, voice-controlled switching of channels, and searching of programs. No doubt, Smart TV is a gateway to the outside world. It brings every little detail of it to life.
Vizio Smart TV
Well, they are ruling over the whole since their arrival. They stand out as one of the Top smart TV sellers worldwide and especially in the USA. Vizio TV is a well-reputed brand that comes in between big-Stars like Panasonic, Sony, and LG.
And that's because of the remarkable features it offers, not only that it also comes with attractive and aesthetic design. All these qualities make this smart TV stand alone in the market.
Vizio smart TV holds a firm grip on producing high-end TVs with fantastic picture quality along with a surprising resolution that brings out the most accurate colors. All of this under a reasonable price.
You just need to relax and make your way to the Home screen of Vizio TV and then stream limitlessly thousands of movies and TV shows.
Vizio TV comes with a number of installed apps and channels that are good enough for anyone, but in case you need other media or want to use a web browser in the Vizio Smart TVs (as Vizio Smart TV doesn't have a web browser installed), then this guide is for you.
By using the Web browser, you can download additional apps on your Vizio Smart TV. So, here is an article wrote that will let you know how to get a web browser on Vizio Smart TV.
How to get a web browser on Vizio Smart TV
We often see a lot of people discussing they want to use a web browser on Vizio Smart TV and specifically, they ask that how to get a web browser on Vizio Smart TV or How to surf the web on Vizio Smart TV? Or how to access to the internet on Vizio Smart TV.
As we told you, Vizio Smart TVs don't come with a full internet web browser at this moment, but you can still utilize some apps that offer you their direct services such as Netflix, Hulu, Amazon Prime, Vudu etc.
We dug deep and did some research and luckily succeeded in finding some solutions to these questions. In our opinion, there is a way by which you can access the Internet web browser on your Smart TV via connecting the browser device to the Cat5 port or connect it through the PC cable unit.
Follow these steps if your Vizio Smart TV doesn't have access to the internet connection.
If you are a Vizio Smart TV user, you need an internet connection to access the internet-based built-in applications.
You can handle this problem on your own pretty merely. Here is a guide for connecting to the internet.
Firstly, check your internet connection, which you are connecting with your TV.
Make changes in the DHCP settings.
You can also test on other devices.
Then, reset your TV settings. (Before your reset, Please check your smart TV's internet connection, which is connected or not.)
Retest the internet connection.
Call Vizio support for warranty service.
How to connect internet on Vizio Smart TV through a Wireless network or a wired Network
If you are looking for a way to access the internet on your smart TV, then you can connect the internet through a wireless network and a wired or cable network. To do so, follow these simple steps for accessing the internet on your smart TV.
Connect the internet through wireless networks
Firstly, press the menu button from your Vizio smart TV remote.
Then, select the Network option and Press on the OK button.
After that, select the Network option, then choose the optionof wireless.
Next, find and Select your Wi-Fi Network and enter all credential details.
Now Your Smart TV is connected with your Wi-Fi network.
Done.
Connect the internet via a wired connection
Here first, you will need to connect your Ethernet cable to your TV's LAN Port.
Then, press on the menu button from your TV remote.
After that, select the network option and press on OK Button located on the screen.
Then, select the Wired Network option.
Now, your Vizio smart TV connected with your wired network.
Complete.
We also see people asking for how to download apps on Vizio Smart TV. Here is a short guide of how to add apps on your Vizio Smart TV. Go for it, and even if you don't want to download apps on your Vizio Smart TV, you might need it later.
Guide:
If the app you are looking for isn't available on the TV's app list, you can use the built-in feature that is Google Chrome Cast. Chrome Cast allows you to cast thousands of your favorite applications to your TV from computer, smartphone and tablet.
Downloading from Play store
First things first, make sure that Vizio TV is connected to the Internet.
Then press the "V" button on your Vizio TV remote.
On pressing it, an app bar will open a pop-up on your screen. The interface will be similar to that preinstalled apps directory in Vizio Smart TV.
Then, go to Play Store in your Vizio Smart TV. If not installed, go through a web browser.
Now, Search for Spectrum App. (Spectrum app is for example)
Look for the spectrum from the browsed result.
Find it and install it.
The app will start to download, and then the installing process will begin.
Once the installation is done, open the Spectrum App and Sign in if you have a spectrum account already, then log in.
The ending line
Officially, Vizio smart TV doesn't come with a pre-installed web browser by which you can download any app or surf the internet but we also got a way to anything unless it not illegal. So, go on and try this procedure only as it solves the problem of many people.
The only minus point these Vizio Smart TVs have is smart HDTV is that you are unable to access the Vizio smart cast web browser. But thanks to its built in apps, with them it's still exciting to discover the unlimited televisual content on the Vizio Smart TV operating system.